LIVERPOOL STREET
Unit 24, Liverpool Street Station,
London EC2M 7QH
(above platform 1, behind M&S)

email: liverpoolstreet@moshimoshi.co.uk
Tel: 020 7247 3227 also try 020 7247 3237


General Opening Times
Mon – Fri, 11.30 - 22.00.
Weekends available for private hire only

We are closed on Bank holidays and between Christmas and New Year.

Our design
Liverpool Street Station restaurant was created by Kaneshiro Yusaku, one of the Japanís leading restaurant designers working in Tokyo today. He was one of the most influential designers in reviving Japanís enthusiasm for its own culture, and was responsible for much of Japanís design turning back the time, and reverting to its cultural roots.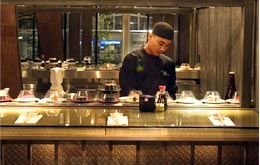 Our food
We work hard to foster relationships with local food producers, thereby reducing food miles whilst at the same time supporting a thriving and sustainable local economy.